Will Tiger Woods rise from the ashes of his golf career?
Tiger Woods may be one of the greatest players to have graced the game of golf, but after a decade of injury set backs and media scandals, many believe the golfer is finished. Does the legend have one final trick up his sleeve? Only time will tell… Roll the clock back 12 months to February 3 and a golfing phenomenon looked set to lay down his clubs for the final time. Tiger Woods – plagued with injuries, addiction to painkillers and the psychological toll that shadows a 'fallen icon' – pulled out of the Dubai Desert Classic after just one round. It was his back. Again. Spasms, causing crippling sciatica and immense discomfort down his spine, had haunted the former world number one since 2010, but having pulled out of his fifth tournament in 19 appearances, this time the career prognosis seemed terminal.
Golf fans speculated, Woods' detractors asked why the loss of a 41-year-old golfer past his prime mattered, and event organisers and TV broadcasters rued the inevitable decline in interest that would follow. Tennis will surely find itself asking the same questions when the time comes for Roger Federer to hang up his racket: when a modern great elects to turn his back on competitive sport, the vacuum is rarely plugged easily. A little piece of golf died following that announcement.
Tiger Woods is a player who requires little introduction. The stats sheet says it all: 14 Major victories, 79 PGA Tour titles, and (wait for it…) $1.7bn in career earnings so far. That's a full billion more than Floyd "Money" Mayweather. Irregardless of your interest in the sport, the dynamic, virtuosic, aggressive style with which he regularly dismantled the opposition was intoxicating.
In a few years of insurmountable golf, Woods single-handedly changed the face of the game for good. Courses were "Tiger proofed" – lengthened to previously unimaginable yardages – to accommodate the game's most powerful player; competitors imitated his rigorous training regime; sports marketers laughed their way to the bank.
No modern player, in spite of the undoubted talents of Jordan Spieth, Justin Thomas and Rory McIlroy, comes close to the fear Woods could strike into a field at his pomp – and, as such, the phrase 'Tiger, on the prowl' became synonymous with golf's greatest ever competitor. On Sundays, Tiger wears red; on Sundays, Tiger wins. At least he used to.
But in this Shakespearean play, we haven't quite reached the final act. Perhaps, maybe, this is not a tragedy, after all. In April 2017, Tiger Woods underwent his fourth back surgery to date. The Anterior Lumbar Interbody Fusion was a risky move (fusing one vertebrae to the other limits movement in the spine: never a good thing for a sport that relies on the very same action) but, Woods attested, for the first time in a long time he was pain free. Fans' ears pricked, fingers were crossed.
Tiger Woods' injury timeline
Rock bottom followed optimism: a month after surgery, the golfer was arrested in the early hours of the morning for driving under the influence (his pain meds the culprit). His groggy mugshot disseminated worldwide by Palm Beach County Jail, the player was greeted with ridicule and sadness on social media. Woods might have hoped he had left the tabloids behind him after a sex scandal emerged from the wreckage of his crashed Cadillac Escalade on 27 November 2009, but once again the golfer was forced to explain his actions, this time to come clean about his troubles with pain medication. Players jumped to his defence, more out of awkward sympathy than heartfelt condolences, as the world's most famous golfer was dragged through the gutter. Journalists shook their heads and filed their sporting obituaries to a player who had lost it all.
Fans turned to Instagram as their new source of hope. The all-clear from Woods' medical team meant that supporters were fed snippets of the player chipping and hitting easy iron shots in September, but it wasn't until a video dropped on October 23 that the golfing world really stood up and took notice.
"Return of the Stinger" the caption read, and showed a healthy, aggressive Woods executing a perfect example of his iconic drilled iron shot in slow motion. One of the sharpest tools in a young, fit Woods' armoury, such a swing had been consigned to highlights reels when, uninhibited, he could explode into the ball with athleticism rarely seen before on a golf course. But as the video ended, the ball fizzing low and laser-straight into the distance, the expectation of a return from golfing exile mounted.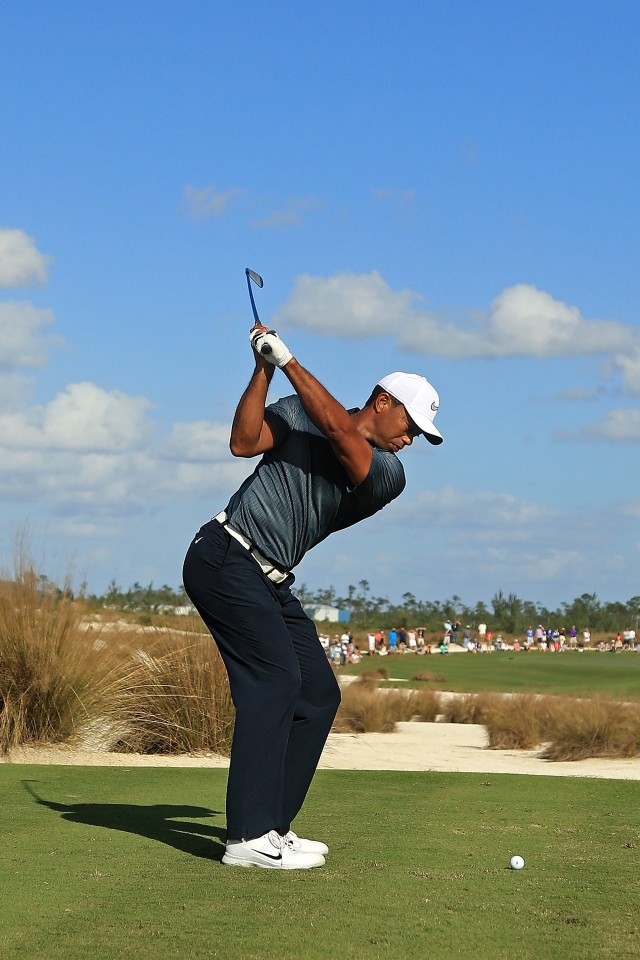 Photo by Mike Ehrmann/Getty Images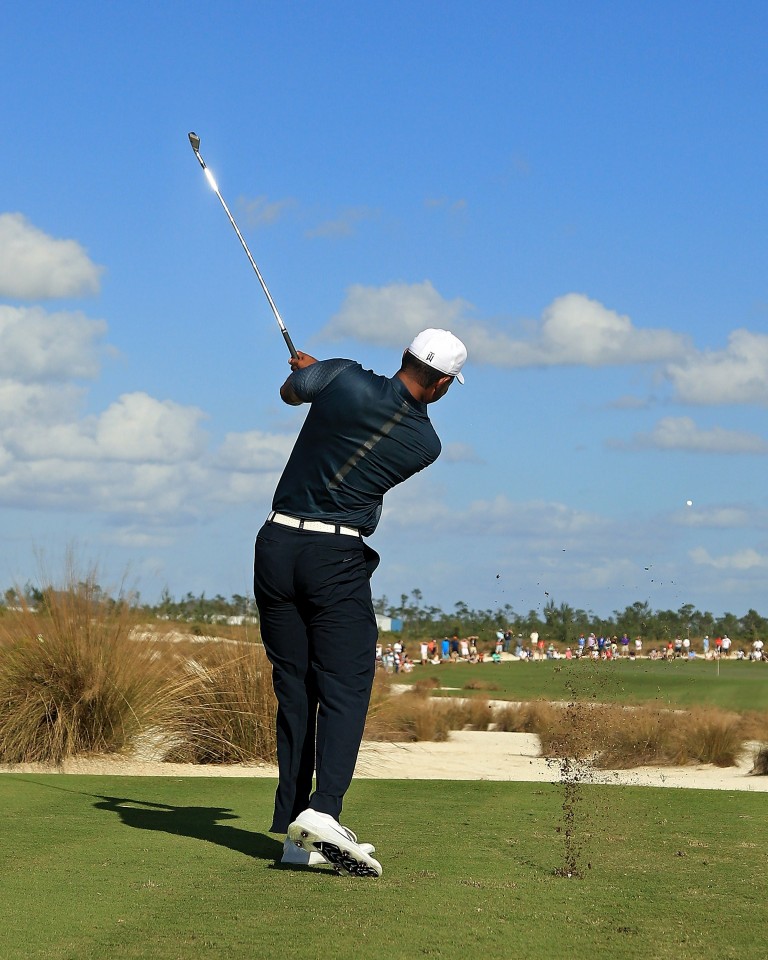 Photo by Mike Ehrmann/Getty Images
Fast forward to December 1 in the Bahamas, Woods slings a towering three-wood into the par-five 9th hole at the Hero World Challenge. Fifteen feet from the hole, he coolly drains the putt for eagle and finds himself on the 10th tee the leader of the star-studded tournament. Not bad for a player who entered the tournament ranked 1,199th in the world. By this point excitement had reached fever pitch: social media flooded with ecstatic tweets and golf analysts worked overtime to figure out how Woods had turned it around.
He finished the tournament tied for ninth, but for some reason that didn't seem to matter. Beyond the calibre of shots throughout the event, what drew breath was something far more profound: Tiger Woods smiled his way around 72 holes of golf.
In the last few years we have grown used to an ever-stoic player, grumbling to himself as his body and his golf failed him. Mentally and physically, this was the best Woods we've seen in a long time – heck, he was swinging his driver at a brutal, back-surgeon-worrying 180mph. This was rebirth.
As Woods gears up for his return to the PGA Tour on January 25 at the Farmers Insurance Open, question marks will persist about the legend's ability to sustain a full professional schedule. Fitness is one thing, but should Woods put a string of performances together, speculation of that elusive fifteenth Major – a decade after winning his last – would be unavoidable. After all, everybody loves a good ending…
For now, though, it's just good to have Tiger back on the prowl.